SHARE :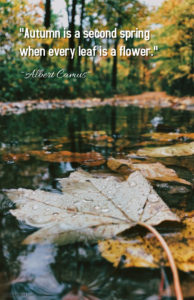 Football season has started! This means fall cleanup is just around the corner! Leaves will be falling soon with yards filled with wet leaves. But what other hazards are associated with the autumn season? Well, let see… as the temperatures fall our lack of warmth in the house triggers the need for heat. So, don't forget to have an annual check up on the furnace.  How about fire prevention, do you have fire protection? Fire extinguisher(s), smoke detectors (batteries changed and checked.) Make sure to have first aid supplies available just in case of an injury. God forbid the house goes up in flames… do you have an evacuation plan? Do a walk through with your family.
If there is a need for help… ask for it. Cleanup can be strenuous for older folks. Give them a helping hand. Are you out of shape? Autumn is a great time to enjoy the beautiful colors and a walk in the crisp air.
Stretch out before bending, twisting or heavy lifting. Bags of leaves can become burdensome, especially when wet. Find a way to transport leave bags. Use proper ergonomic tools. After hours of raking, blisters show up on the hands, avoid by finding a well-fitting glove.
Don't forget to take a break and rejuvenate! Give yourself a rest.
Gutters become full of leaves. Get the ladder, but before you do… take a look at some simple tips to prevent a ladder injury.
Choose the right ladder
Have a firm foundation
Climb the ladder with care
Consider weather conditions
Use the 4 to 1 rule
Always use three points of contact
Statistics on Falls
Falls were the leading cause of nonfatal injuries for all age groups, except for 15- to 24-year-olds, according to Injury Facts. Thousands of people are injured or killed due to falls from a ladder or scaffolding at work. Workers in the construction industry are most at risk. Of all occupational injuries, falls are the second leading cause of death next to highway crashes. https://www.nsc.org/home-safety/tools-resources/safety-checkup/ladders
So, enjoy the weather while it is still nice! Projects around the house can be fulfilling and enjoyable. However, following these few tips can keep you injury free!
SHARE :